Background
- On October 3, 2008, President George W. Bush signed into law the Emergency Stabilization Act followed by President Barack Obama signing into law the American Recovery and Reinvestment Act of 2009 (ARRA) on February 17, 2009.
- The combined effect of these two laws provides a 30% tax credit on both the purchase and installation of qualifying products in renewable technologies such as solar electric property, residential solar water heating, qualified small wind energy and qualified geothermal heat pump energy, among others.
Under these laws, VELUX Solar Powered Fresh Air Skylights as well as VELUX Solar Powered Blinds qualify under "Solar Electric Property" expenditures when purchased and installed from January 1, 2009, through December 31, 2016 and extended through 2021 (See below). This tax credit is a direct debit of the taxpayers total tax liability.
2009-2019 save 30% Federal tax credit
2020 save 26% Federal tax credit
2021 save 22% Federal tax credit
What do I need to do?
When the product is installed: Keep your receipts for total price paid (product and installation) for one of the qualifying VELUX products and attach them to a completed 30% Federal Tax Credit - Manufacturers Certification Statement1and keep for your records.
When it is tax time: Fill out IRS Tax form 56952 and submit it with your taxes. Enter this tax credit off of form 5695 on your 1040 form.
1] IRS Notice 2009-41 suggests the taxpayer is not required to attach this certification statement to their tax return. However, the taxpayer should retain this certification as part of their tax records.
2] As in all tax matters, the taxpayer is advised to consult their tax professional. VELUX America LLC assumes no liability regarding the homeowner's ability to obtain tax credits.
NEW

Energy Performance Models are the logical choice for any

fixed

or

manual

"Fresh Air" skylight installation.

*Energy performance models qualify for 30% federal tax credit, $730 average savings on product and installation for new skylight cut-in. In most cases skylights are free.

Energy performance model skylights include: FS, FCM, VS, VCM and QPF and comes with your choice of 5 solar-powered, double-pleated, room darkening blinds below that are factory-installed!
What's included in the Energy Performance Model box?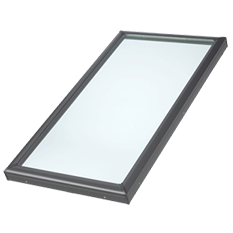 Skylight
Triple LoE, dual-sealed, argon-gas-filled glass.Meets ENERGY STAR® requirements in all climate zones.
Factory-installed solar blind
Solar-powered, double-pleated, room darkening blind. Boosts energy performance up to 40%. Choose from 5 in-stock colors. (Charcoal pictured)
Intelligent touch remote control
Simple set up for seasonal automation optimizing energy efficiency.
Choose from 5, In-stock, room darkening, double pleated, solar-powered blinds for your Energy Performance Model skylight: